Wyndham 3×3 Tryouts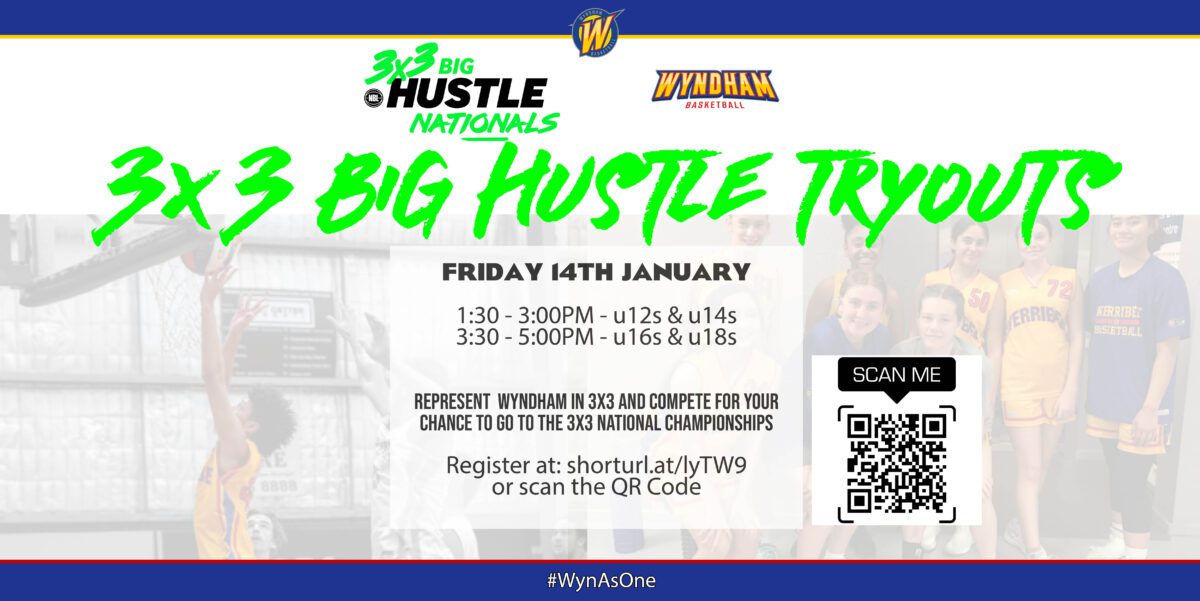 The up and coming Wyndham 3×3 tryouts will see teams selected to attend the 2022 3×3 Big Hustle National Qualifiers, with the winners of each age group then moving on to the National Championships.
This tryout and team selection process is the first major step in our Wyndham Way Vision – 3×3 Focus, which will see the Wyndham Basketball Association promote the 3×3 pathway more within our community, and also have a stronger presence on the 3×3 National scene.
For those that are new to the 3×3 world, it is a fast, relentless, physical and exciting format, with shorter and more action filled games. For those that do have experience with 3×3, we most certainly want to see you at tryouts.
There are two additional and major benefits of playing 3×3, the first being that it also develops and greatly assists your normal 5on5 basketball, and the second reason being it also provides you an entirely new pathway in basketball, so it's a win/win situation.
Although these tryouts will only see one team per age group/per gender selected, we will be hosting more and more 3×3 events as 2022 rolls on, but for the meantime, roll up your sleeves and get along to the tryouts.
Tryout information:
Date: Friday 14th of January
Time: 1:30pm – 3:00pm – u12s and u14s
Time: 3:30pm – 5:00pm – u16s and u18s
Location: Eagle Stadium
Ages:  DUE TO THE EARLY DATE OF NATIONALS THE AGE CUT OFF DATE IS 23rd of JANUARY 2022
12's & under – athletes who are 12 years or younger on 23rd Jan 2022
14's & under – athletes who are 14 years or younger on 23rd  Jan 2022
16's & under – athletes who are 16 years or younger on 23rd Jan 2022
18's & under – athletes who are 18 years or younger on 23rd Jan 2022
OPEN – athletes who are 17 years or older on 23rd Jan 2022
---
Athletes who are successful at the tryouts will attend the below event:
Date: 22nd & 23rd Jan 2022
Time: 8:30am team check in on the Saturday – 5pm finish on the Sunday
Location: Ballarat Sports Events Centre – 989 Norman St, Wendouree VIC 3355
Cost:  $50 per athlete (4 players maximum)
Note: All selected athletes will also need to purchase a 3×3 Big Hustle uniform ($25), which can be purchased online and collected at the tournament during check in (link will be provided to successful athletes).
If you have any further questions, please contact Wyndham Coaching Lead, Lucas Allen – lucas.allen@wyndhambasketball.com