Werribee referees add to the trophy case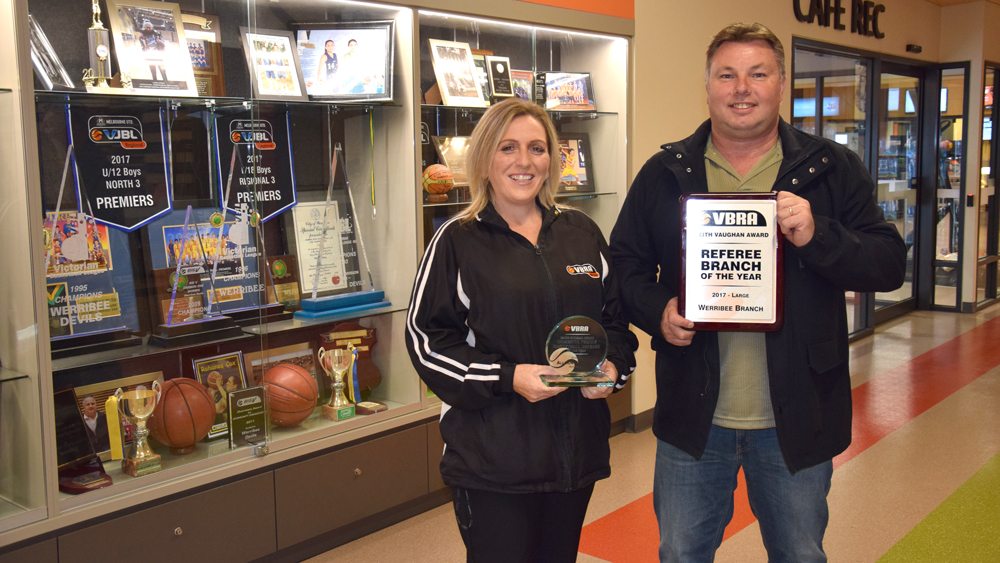 Werribee Basketball's referees have taken out three major awards at the Technical Officials Commission's (formerly VBRA) annual awards in May.
Highlighting just how strong Werribee's program is, our referees won Large Referee Branch of the Year, Branch president Allison Scholey won the Marg Gorman Female Domestic Senior Basketball Referee of the Year and Werribee's own Ron Clarke was awarded Life Membership of the TOC.
Allison said the Large Branch of the Year award was a tribute to the years of work by all of Werribee's referees.
"This award is due to the hard work that people like Ron and many others have put in over the years, the people who set up the association – I'm just the cat who got the cream!"
"We have 215 referees in our program now and our continued growth is testament to the refereeing pathways we provide," Allison said.
Not wanting to dwell on her own award, Allison simply said she was honoured. She said her career highlight was definitely refereeing with her daughter. 
"I started a long time ago just to save some money for a holiday to England. I would never have imagined I'd be here all these years later still enjoying getting out on court and guiding our younger referees through!"
Ron's elevation into the Hall of Fame comes 34 years after he started refereeing at Werribee as a 17 year old.
While he is now based in Melbourne, during his many years at Werribee he officiated domestically, through the state league program, at Big V, SEABL and NBL level.
He spent many years as Referee's Advisor of Werribee's program and has been instrumental helping guide the program to become what it is today.
Ron says his time teaching the next generation of referees is what he enjoys most.
"I like seeing the kids develop life skills. What our young referees learn on the court and the confidence they get from refereeing, they take that with them into the outside world."
Ron said receiving the recognition from the TOC was very emotional.
"I don't consider this an award. For me, it's an achievement. It's recognition of a lot of hard work and I'm thrilled by it."