WBA secures 2021 Australian U18 Championships & Kevin Coombs Cup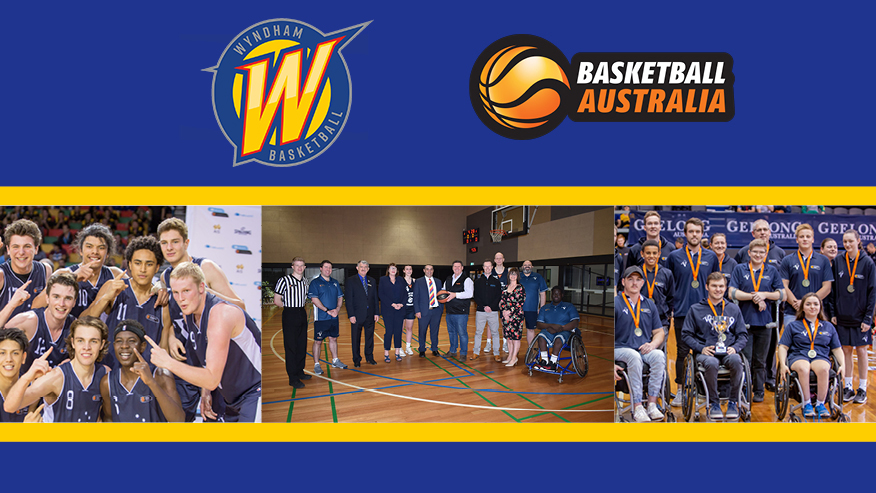 Wyndham Basketball is thrilled to announce it has secured the hosting rights of the 2021 Australian U18 Championships and Kevin Coombs Cup.
In a massive coup for the association, Basketball Australia's prestigious U18 event will see elite junior basketballers come together in Wyndham to be crowned Australian champion. Alongside the Kevin Coombs Cup – Basketball Australia's premier Wheelchair junior championship – the tournament is sure to be a highlight for local players, sports fans and the community.
Photo L-R: Tate Wheatland (Werribee referee), Reece Potter (Vic Metro U18G Head Coach), Peter Maynard (Wyndham City Councillor), Joanne Ryan (Federal MP for Lalor), Lauren Jones (Werribee SDP player), Robbie Coyle (Werribee Basketball GM), Paul Jones (Werribee Basketball President), Rod Gaut (Eagle Stadium Manager), Kane Hynes (Werribee SDP player), Alison Dixon (Western Leisure Services CEO), Jason Bryant (Kevin Coombs Cup Vic Metro A/Coach), Chithic Machar (Werribee & Victorian Wheelchair athlete)
Eagle Stadium will play host to both tournaments as Werribee ­­Basketball and Wyndham show off our ability to host events on a national scale.
Highlighting the significance of the event to our wider region, Werribee Basketball was joined by Joanne Ryan MP, Councillor Peter Maynard and Western Leisure Services CEO Alison Dixon in making the announcement.
Werribee Basketball's General Manager Robbie Coyle outlined the exciting benefits of bringing a championship of this stature to Wyndham.
"For Werribee Basketball to be hosting the National Championships here in Wyndham is massive and the whole event is going to energise our entire community. We hope it serves to inspire the next generation of players, referees, coaches and volunteers," Coyle said.
"It will provide a fantastic stimulus for the local business community too. Recent economic reports from previous hosts Townsville and Ballarat outline a direct economic impact of between $2 million and $4 million, and an indirect impact boosting the local economy even further.
"Werribee is a world class tourism destination and we want to encourage the visitors for these championships to get out and discover what we've got. With Avalon Airport on our doorstep, and wonderful attractions like the Werribee Open Range Zoo, Werribee Mansion, Pacific Werribee and Shadowfax Wines," Coyle added.
"We know our local community will get behind the 2021 Australian U18 Championships and Kevin Coombs Cup to ensure we show off our region and our ability to compete on the national stage."
Basketball Australia Executive General Manager, Paul Maley, commented on the importance of the Australian Under-18 Championships and Kevin Coombs Cup and acknowledged the excellent bid from Werribee Basketball.
"The championships are an integral part of Basketball Australia's High Performance pathway, bringing together some of the nation's top young talent, with many athletes potentially progressing through to NBL and WNBL ranks, before also vying for Australian national team representation, including at Olympic and Paralympic levels.
"The tender from Werribee Basketball was of a very high quality, and we know they will put together an excellent event. We're excited about the prospect of hosting a major tournament at Eagle Stadium and in such a fast growing region of Melbourne," Maley said.
The tournament will be held 10-17April 2021, further scheduling details will be released at a later date.