Potter to weave his magic for 2 more years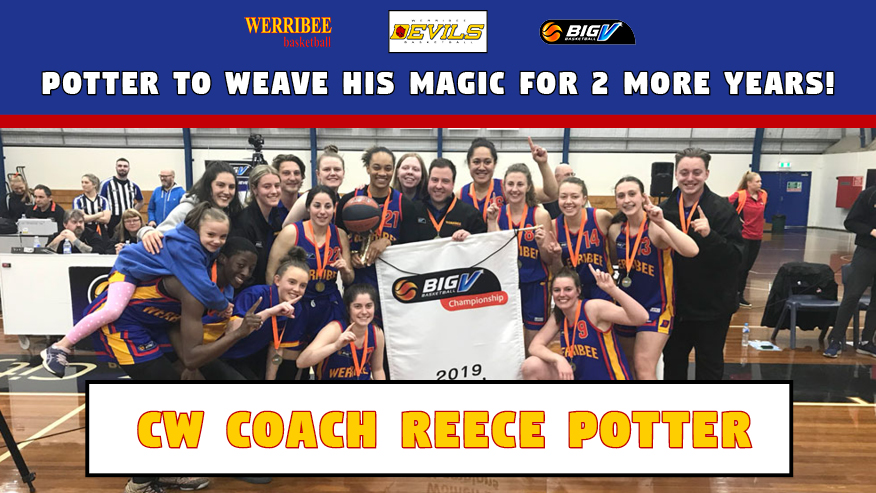 Werribee Basketball can announce our Big V Champ Women's head coach Reece Potter has signed on to coach for the 2020 and 2021 season.
After a watershed 2019 season, where the team was promoted from Division 1 to the Championship division and went on a dream run culminating in the Grand Final series win against Keilor.
On top of being a newly minted championship winning coach, Potter has as impressive a basketball coaching resume as any 27 year old in the country.
He has experience as a coach in the WNBL, SEABL (now NBL1), Australian junior teams and the National Championships with the all-conquering U18 Vic Metro team.
Potter said he was pumped to continue to build what has been a successful 2 year stint as Werribee Devils head coach.
"To win the championship last season was a great thrill. And I'm excited by the challenge of trying to back it up again next year," Potter said.
"What has been really pleasing is alongside the on-court success, the players have understood the importance of community engagement and enjoyed fantastic support from huge numbers of junior players – and their parents – particularly through the finals series," he added.
"There's a lot of work to put in to try and go back-to-back, but I'm up for it and I know the team will be too."
WBA President Paul Jones said securing the services of Reece again for the 2020 season was a great result for the Big V program.
"Winning the 2019 CW Championship was an outstanding achievement by our players and coaches, so having the Championship Winning coach back to lead the CW program for another 2 years is exciting for our Big V Program," Jones explained.
"Alongside our new Men's Coach John Dorge, it's a fantastic head coaching panel that we know are the right people to drive the program onwards and upwards," he added.
The Championship Women coaching panel will be rounded out by Championship cult hero Corey Michailidis and Liam Paul as assistant coaches.
Reece Potter's resume:
Werribee Basketball Association, Jan 2017 – Present
Big V Head Coach (Women), September 2017 – Present
Basketball Australia, April 2017 – Present
Australian U17 Women Assistant Coach (Oceania – New Cal), June 2019 – August 2019
Australian U15 Women Assistant Coach (Oceania – PNG), October 2018 – December 2018
Australian U17 Women Assistant Coach (Oceania – Guam), April 2017 – June 2017
Basketball Victoria, September 2017 – Present
Vic Metro U18 Women Head Coach, Sept 2017 – Present
State Development Program (SDP) Satellite Head Coach, Sept 2017 – Present
Women's National Basketball League (WNBL), September 2014 – Present
University of Canberra Capitals – Scout, Sept 2017 – Present
University of Canberra Capitals – 1st Assistant Coach, Sept 2016 – Mar 2017
Sydney Uni Flames – 1st Assistant Coach, Sept 2014 – Mar 2016
Launceston Tornadoes Basketball Club, September 2014 – December 2016
SEABL Women's Head Coach, Sept 2014 – Dec 2016
Basketball NSW, September 2009 – December 2015
High Performance Programs – Network Coach, September 2009 – September 2016
NSW Country U18 Women State Team – Assistant Coach, September 2011 – April 2014
NSW Country U16 Women State Team – Development Coach, January 2011 – July 2011
Maitland Basketball Association, January 2009 – September 2014
Director of Coaching and Development, August 2013 – September 2014
Junior Representative Head Coach, January 2009 – August 2014
Qualifications
Performance Coach (Level 3) Accreditation, Basketball Australia, 2018
Master of Education (Sports Coaching), University of Sydney, 2016 – Present
Graduate Certificate in Sports Coaching, University of Queensland, 2015
Coaching Awards and Achievements
2019 Big V CW Champions (Werribee Devils Women's Head Coach)
2019 National Champions (Vic Metro U18 Women Head Coach)
Basketball Victoria 2018 Coach of the Year (Male)
2018 National Champions (Vic Metro U18 Women Head Coach)
2018 FIBA Oceania Gold Medal (Australian U15 Women Assistant Coach)
2018 Big V D1W Playoffs (Werribee Devils Women's Head Coach)
2017 FIBA Oceania Gold Medal (Australian U17 Women Assistant Coach)
2016 SEABL Conference Finalists (Launceston Tornadoes Head Coach)
2015 SEABL Preliminary Finalists (Launceston Tornadoes Head Coach)
2015 WNBL Preliminary Finalists (Sydney Uni Flames Assistant Coach)
2014 Australian Junior Country Cup Champions (NSW Country U18 Women Head Coach)
2012 Australian Junior Country Cup Champions (NSW Country U16 Women Head Coach)