Grant Duca on board as Youth League Coach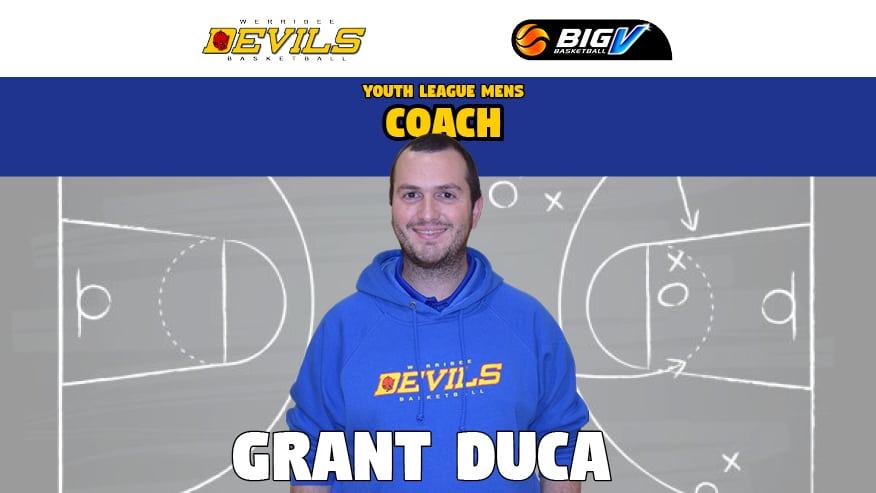 Grant Duca has signed on as Werribee Devils Men's Youth League head coach for the 2019 and 2020 Big V seasons.
Grant joins the WBA with vast coaching experience across all levels of basketball, including winning championships as a head coach in the VJBL and coaching in the Big V with Keilor Thunder.
With a Bachelor of Sports Coaching from Victoria University, involvement with Basketball Victoria's elite pathway and current employment at Basketball Victoria as school tournament's coordinator, Grant is primed to flourish in the Youth League role both coaching and developing our up-and-coming Big V players.
He holds an Association (level 2) coaching accreditation.
Grant identified the strong Big V program at Werribee as one of the key factors in attracting him to the role.
"Werribee has always been a great club and very tough competition when playing against them over the years."
"The coaching staff at all levels are extremely experienced and knowledgeable and I'm thrilled to work closely with Senior Men's coach Warren Estcourt and his staff to build a clear pathway for our juniors to transition into seniors," said Grant.
He also said he was pumped to get into the new season.
"I'm looking forward to leading a group of talented athletes and helping guide them in their development.The youth league team has many skilled players and has been very competitive over the last few seasons, so I'm extremely excited and motivated for the challenge to push them further and see how far we can go."
"I look forward to focusing on how we can succeed best as a group, by utilising all team members whilst still emphasising player development. My main goal is to develop the players as a team and also to assist in their individual growth," Grant said.
If you are interested in playing our Youth Men's Big V team for the 2019 season (under 23s) you can let Grant know by emailing info@werribeebasketball.com
The WBA will make an announcement about the Women's Youth League head coach shortly.