DDP success story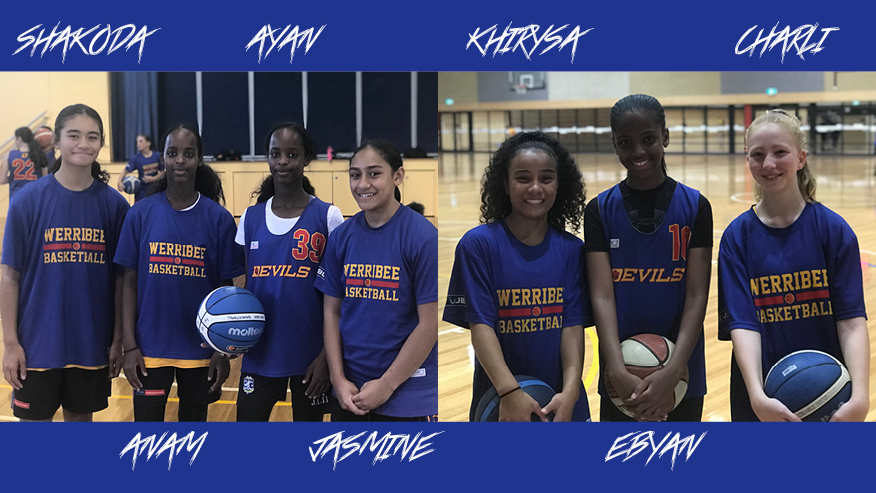 Werribee Basketball's Domestic Development Program (DDP) is designed to help our players bridge the gap between domestic and rep basketball and this year's U/14 girls are proving it works!
In total, 8 girls from our 14.1G and 14.2G completed DDP prior to making a VJBL representative team, emphasising the value of the program.
Currently playing in the 14.1Gs, Shakoda Onken Paiti said the program was very helpful in preparing her for VJBL. "DDP helped me build up my skills and gave me a fantastic insight into rep basketball, it definitely helped me develop as a player."
Shakoda's teammate Ayan Ali said she improved dramatically as a result of the program: "I was able to improve my dribbling and especially my footwork, I am a lot faster now than I was before!"
Ayan's sister Anam Ali (also playing in 14.1G) said: "It was really good, the advice was very helpful. I worked hard on my shooting technique during the program and it has improved greatly."
Shakoda, Ayan and Anam's teammate Jasmine Pirangi said she loved learning from a range of WBA coaches: "The access to the coaches at DDP was really helpful. I learned a lot during my time in the program."
DDP provides domestic players with an unrivalled opportunity to enhance their basketball fundamentals and hear first-hand from VJBL representative coaches.
In the 14.2G, Khirysa Pese said: "The program was great."
Khirysa is joined in the team by Aheu Yak, Ebyan Dhakal and Charli Potts.
Charli said: "DDP definitely helped get me into a representative team, my game improved and I'm glad I was part of it!"
Ebyan agreed, saying DDP gave a great insight into what was required to play rep basketball: "Having access to the coaches meant I knew what skills I needed to work on and really helped to improve my play."
Charli's father Andrew Potts said his daughter and her teammates had really benefited from being part of the program.
"They absolutely have improved through their involvement in DDP. Having the opportunity to work closely with rep and senior coaches was fantastic – especially working specifically on technical skills," Andrew explained.
"For Charli, it certainly helped with her skills, but it also built up her confidence on court and she deals with the nerves before a game much more effectively now."
There are still spaces available for the DDP program in Term 1 for both our Tuesday and Thursday sessions, click here for more details.