DARRIEN HERBERT RECEIVES PIERRE DE COUBERTIN AWARD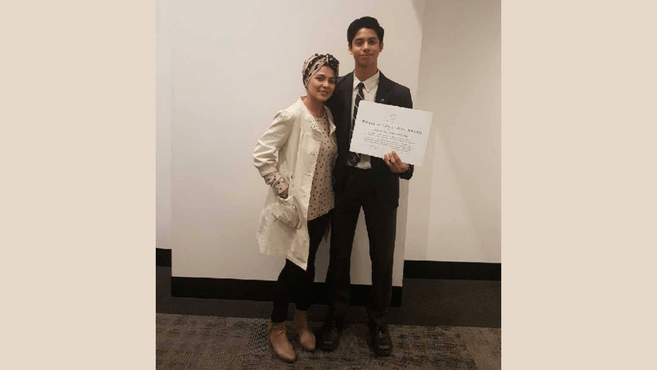 Darrien Herbert, received the prestigious Pierre de Coubertin Award. The Pierre de Coubertin Award recognises secondary school students who demonstrate values which are consistent with the Olympic Movement through participation in sporting activities. The award also recognises students who are active participants in sport and display the Olympic ideals of fair play and sportsmanship. The Awards are administered in each state by the respective State Olympic Council (SOC).
Herbert is a great athlete and has been an outstanding performer for the Werribee over the years. Earlier this year he was the only Werribee Devils' player selected for VIC Metro's under-16 national basketball championship squad. The exciting point guard has shown overall development and deserves this award.
WBA media met with Darrien and Zai, Darrien's mother to find out what it means to win the award.
WBA Media to Darrien: How do you feel after winning the Pierre De Coubertin Award?
Darrien: I feel very honoured to win this award. It means a lot to be chosen to receive such a prestigious award and be amongst the winners in Victoria.
WBA Media to Darrien: Would you like to thank anyone for winning this award?
Darrien: There are many people I would like to acknowledge for this achievement. First, my family and friends who have always been there for me when I need them. My coaches and my mentors, without them I wouldn't be exposed to basketball. I have learnt so much from basketball, not just the sport but in life skills as well. Having said that, I know I am still learning and have a long way to go bit I am excited to keep learning new things to add to my game.
WBA Media to Darrien: How has basketball and the Werribee Basketball Association contributed to your progress as a player and person?
Darrien: The WBA have been a great support for me as a player and person both. From being my first rep team, to welcoming me to the rep community and even nominating me for all my state tryouts, the WBA have always been there for me whenever I have needed them. I would also like to talk a little about my coaches who have not only helped me improve my game but have always guided me in the right direction in term of making decisions which have proved to be beneficial for my career. Today, I am proud to say that I represent Werribee because my development shows that their program is perfect to develop and provide a pathway right from junior to senior level.
WBA Media to Zai: As a parent, how proud are you of Darrien's achievements?  
Zai: As parents, we are always proud and humbled by his achievements, no matter how big or small they may be. What matters more is not his achievements but his approach to life and how he achieves his goals and ambitions.
WBA Media to Darrien: What are your future plans and aspirations?
Darrien: One of my goals is toget admission in a good college in the US and if that doesn't work out I will try and get into law. Law is something that interests me a lot and hopefully I get to do both someday, that would be ideal.
WBA Media to Darrien: What areas do you think you can improve in Basketball and otherwise? 
Darrien: One area in basketball I need to improve is my shooting. I am a little inconsistent with that, some days I am really good and other days not so much, so consistency in my shooting is the area I need to work the most. In general, I must admit I am little lazy and I need to be pushed and motivated to get things done but once I out my mind to it, I generally get it done. Just the initial push and motivation is what I need and I have my family and coaches always helping me out so it's perfect for now. 
WBA Media to Zai: How do you keep him grounded after all his achievements?   
Zai: To keep him grounded, we as a familyalways remind him that whatever you have achieved is great but there is always someone out there working hard to improve and be better that you. This is so that he keeps improving and maintains the high level of commitment in whatever he does. To sustain success is a greater challenge, so it is very important he is humble in his achievements and keeps working hard towards his future endeavours.
The WBA would like to thank Darrien and his family for giving us time to conduct this interview. Once again, the WBA congratulates Darrien and his family on such a great achievement and wish him well for the future.