Boomers legend is the new Devils coach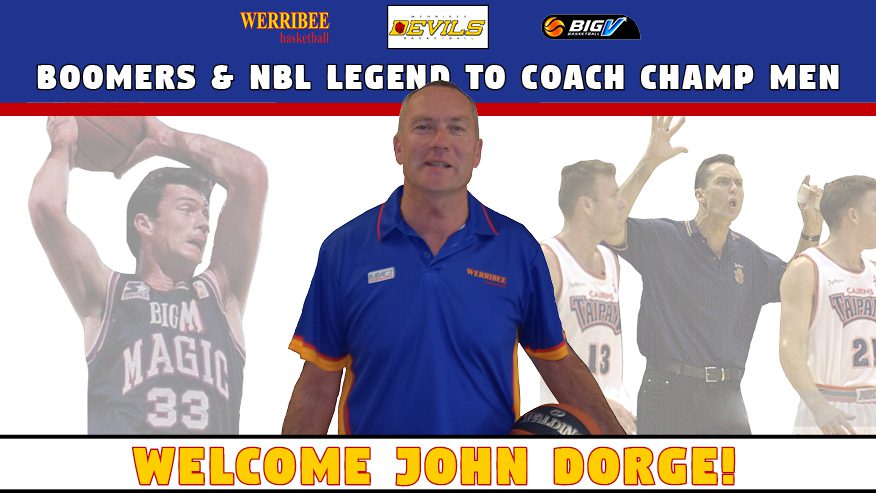 Werribee Basketball is thrilled to announce our new Big V Championship Men's coach is Australian Boomers legend, John Dorge.
Dorge's impressive playing resume is highlighted by more than 150 games in green and gold through the 80s and 90s. Standing at 209cm, Dorge was a towering presence on court throughout his successful professional career in the NBL, which included 8 Grand Final series and five years as captain of South East Melbourne Magic.
Since retiring from playing, Dorge has built an impressive coaching resume.
His experience as a head coach in the NZ NBL was highlighted by winning the "Coach of the year" award in 2007. Dorge then returned to Australia and worked as a lead assistant coach in the NBL with Cairns Taipans, plus as a personal coach to Chris Anstey while he was playing in the NBA for Dallas and Chicago.
His coaching journey now leads to Werribee and Dorge is excited to take a team on the up in the top division of the Big V.
"I can't wait to get into my new role as head coach of the Werribee Devils Champ Men side," Dorge said.
"Looking at it from afar, Werribee is an exciting place to be right now, the association is clearly on the up. I've seen what the women have done this season and would love to build that kind of excitement around the men's team as well!"
In recent years, Dorge has worked as head coach at St Monica's Basketball Academy and Camberwell Grammar School. He explained that this teaching experience had helped develop his coaching philosophy.
"I want to help develop a group of players and drive the program from our juniors in VJBL through Big V Youth League and into our Champ Men's side. I've got a holistic view on player development and look forward to building a sustainable program of success," Dorge explained.
"Back in the days when I was still playing, Werribee's men's side was one of the strongest in the state outside the NBL. I'd love to see us get back into that position of strength," Dorge said.
Werribee's Player and Coach Development Manager Reece Potter said the association was pumped to secure John's services as Big V coach.
"John is a legend of Australian basketball and will be an outstanding asset to our Championship program," Potter said.
"He is humble and hungry to drive sustainable success. He understands the importance of developing local talent and mentoring up and coming coaches. I look forward to working with John over the next two years and seeing what he can do for basketball in Melbourne's West. Exciting times ahead for our Big V program," Potter added.
To round out the Champ Men's coaching panel, Dorge brings with him assistant coach Peter Fleming and they will be joined by last year's development coach Jackie Gibson.
John Dorge's resume:
Coaching Experience
2019                 Head Coach                   Melbourne University Black Angels
2012-2019        Head Coach                   Director of St Monica's College, Basketball Academy
2008 – 2009     Head Coach                   Camberwell Grammar School
2007               Head Coach                   Harbour Heat NZNBL
2007                Coach of the Year          New Zealand NBL
2005 – 2007     Assistant Coach            NZ Breakers NBL
2000 – 2005     Assistant Coach             Cairns Taipans NBL
2004                Head Coach                   Cairns All-star Team Tour of China
Personal Coach to Chris Anstey 
1999 – 2000     Chris Anstey                 NBA:  Dallas Mavericks / Chicago Bulls
Specialist Coaching Associations
1998/99           Specialist Coach            Nunawading Basketball Association Melbourne
1998/99           Head Coach                   Gladstone College Intensive Training Program
1998/99           Head Coach                   Box Hill Senior Secondary College Basketball    
 2012/17           Head Coach                   Director of St Monica's College Basketball Academy
NBL Playing Career
1992 – 1998                       SE Melbourne Magic (92/96 Champions)
1990 – 1991                       Geelong Supercats
1985 – 1989                       Brisbane Bullets (85/87 Champions)
International Playing Career (Over 150 games)
1996                                 Atlanta Olympic Games
1992                                 Barcelona Olympic Games
1991                                  Oceania Championships
1990                                 World Championships Argentina.
1990                                 Goodwill games in Seattle
1987                                 Oceania Championships
1985 -1996                        Australian Boomers Team / Squad
Other   Russian Series / Lithuania Series / Magic Johnson All Star Series