3×3 Street Hustle tournament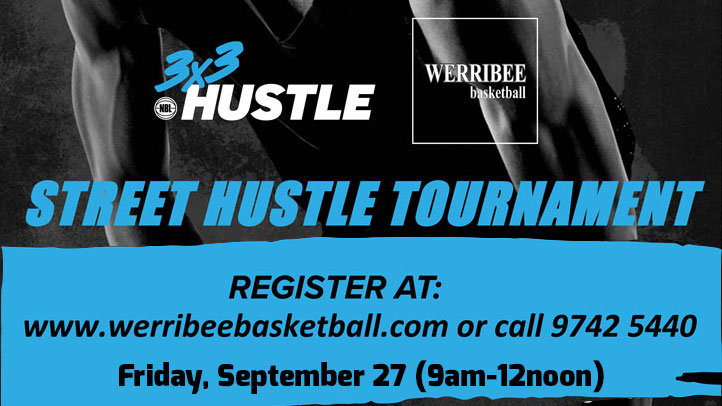 3×3 Street Hustle tournament
Looking for something to do on the AFL GF Public Holiday Friday (September 27)? We've got the perfect solution!
3×3 Street Hustle is coming to Werribee! Get your team of 4 together to enter for a day of exciting basketball and entertaining school holiday fun!
REGISTRATIONS ARE NOW OPEN!
How to register:
If you have played any 3×3 tournaments before you will have a FIBA 3×3 Profile and Hustle Pass – you're ready to go and skip to Step 3.
NEW TO 3×3?
Step 1 (all individual players) – Firstly, all four players need to create a FIBA 3×3 Profile. You can create one at play.fiba3x3.com. This profile will give you a world ranking and let you compare against athletes from across the globe! You will need to save the URL (webpage link) for your profile.
Step 2 (all individual players) – Register for a "Rookie" Hustle Pass at 3x3Hustle.com. This pass costs $10 and provides player insurance for all 3×3 tournaments.
Step 3 (as a team, one person as the main contact) – Register the team as a whole here – https://membership.sportstg.com/regoform.cgi?formID=89690. Note you will need the URL (Webpage link) for each player's FIBA 3×3 profile!
Team registrations close at 10am Wednesday, September 25th.
Age brackets:
Age brackets are the same as the 2019 WBA Winter domestic season or 2018/19 VJBL season.
Uniforms:
Teams must wear a uniform, but it can be any uniform they like. It can be their domestic uniform, a newly bought uniform (professional singlets, specialty designs) or the 3x3Hustle uniform. 3×3 Hustle uniforms can be ordered by emailing Beth.davis@3x3hustle.com
If you have any questions about registering be sure to give our office a call on 9742 5440. Individuals hoping to register and join a team can email info@werribeebasketball.com.