2018/19 VJBL Team Selections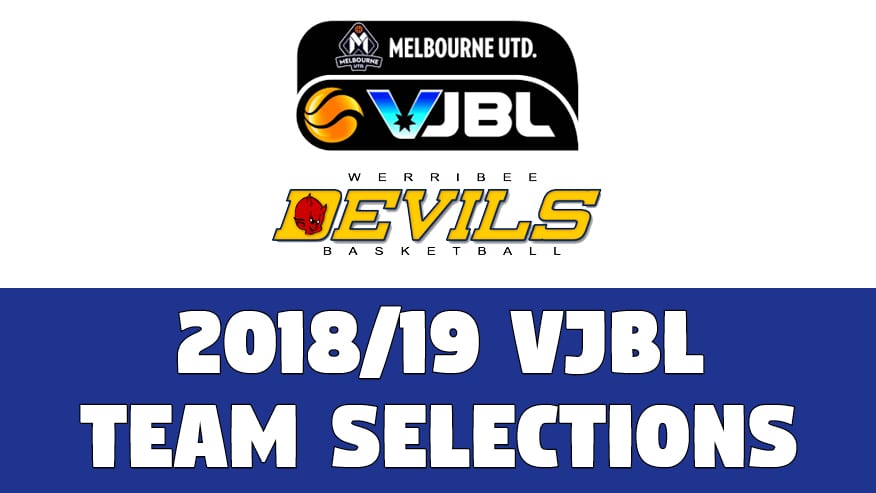 The WBA would like thank all athletes for attending the 2018/19 VJBL Werribee Devils tryouts. We would also like to thank all the coaches and volunteers who helped us during the tryouts.
These tryouts had record numbers, with 55 coaches applying and over 550 athletes attending.
It was a very competitive process and we are pleased to announce the WBA will field in excess of 40 teams in the 2018/19 VJBL season.
For interested athletes our U21 tryouts will be held in late October and early November.
Congratulations to all successful players and best of luck for the coming season. To the players who were unsuccessful in making a team, we sincerely thank you for your efforts and wish you the best of luck in your future basketball endeavors.
PLEASE NOTE:
U18.2G is seeking additional players to complete the team. Please email info@werribeebasketball.com if you or someone you know is interested in playing.
Any team named without a head coach is not

guaranteed

to go ahead unless a suitable coach can be sourced.
Further assistant coaches will be confirmed after consultation with the head coaches. If you're interested in being an assistant coach CLICK HERE.
Click on the age/gender to see full team lists:
IMPORTANT: Please read the following information in relation to your selection in a team:
All athletes will receive an acceptance email from their appointed team coach.
Athletes must reply and accept their position in the team before 5pm on Friday 5th October. Failure to accept your position by the above date may result in your position on the team being given to another athlete.
In addition, to secure your place in the team, a Commitment Fee of $80 is due to be paid by Friday 5th October 2018.  Please note the Commitment Fee is non-refundable and non-transferable.
CLICK HERE TO PAY THE COMMITTMENT FEE
Teams are not finalized until the start VJBL Grading Phase 2. Athletes may be moved between teams based on commitment, attitude, performance, attendance etc. OR if the selection panel deems it necessary due to issues with selections at the end of Grading Phase 1.
Teams that are yet to have a coach appointed are NOT guaranteed to play VJBL and will be withdrawn if a suitable coach cannot be sourced.
Information Sessions will be held for all parents during training on Sunday 7th October 2018, at 8:15am and 9:45am. These are important sessions that further explain the information in the handbook.
Uniform fit-out will be held on Sunday 14th October 2018, from 8:30am onwards:
* Teams will be called in periodically over the morning, in order to minimise queues and maximise training time.
* We are pleased to offer a 10% discount on our Starter Pack for all new players.  The Starter Pack costs $324 and includes playing singlet and shorts, training singlet and shorts, warm up top, hoodie and backpack.