Small Group Workouts – VJBL Players only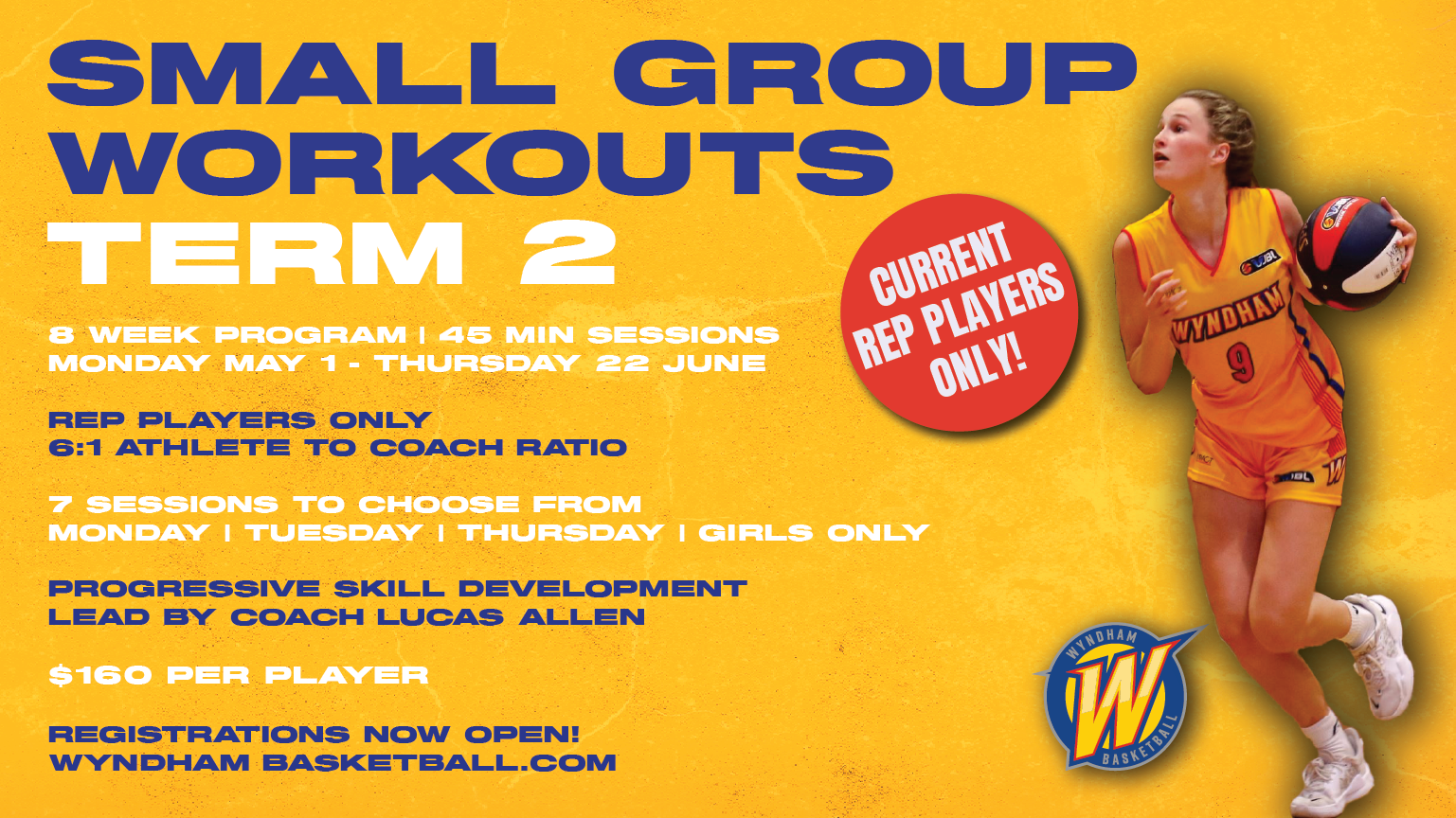 "Make success inevitable"
The Wyndham Small Group Workouts provides an intimate environment where current VJBL players will be provided the greatest opportunities to enhance their skill set and learn how to apply those skills within game settings.  With groups capped at 6:1 player to coach ratio per session, the level of teaching and feedback will provide each athlete the chance to rapidly grow their game.
REGISTRATION FOR TERM 2 2023 NOW OPEN!
Details
7 Sessions available
Mondays (May 1  – June 19 2023)
Session 1 – 4:30pm – 5:15pm Eagle Stadium. Session 2 – 5:15pm-6:00pm Eagle Stadium
Tuesdays (May 2  – June 20 2023)
Session 1 – 4:30pm – 5:15pm Thomas Carr College   Session 2 – 5:15pm-6:00pm Thomas Carr College
Thursdays  (May 4  – June 21 2023)
Session 1 – 4:30pm – 5:15pm Eagle Stadium   Session 2 – 5:15pm-6:00pm Eagle Stadium
GIRLS ONLY. Mondays (May 1  – June 19 2023)
 6:00pm – 6:45pm Eagle Stadium
Cost: $160 per Athlete
(Note, this fee covers the individual for one time slot for the entire 8 weeks.  Individuals are welcome to book for more than one time slot per term, but will be required to pay $160 per time slot booked)
The program is lead by Wyndham Coaching Lead, Lucas Allen.  The experience and success Lucas has will provide each athlete the opportunity to develop their game in an environment that is unmatched.  Having experience in coaching athletes at all levels, from grass roots to athletes with NBA and Olympic experience, his experience and knowledge will provide each athlete the greatest opportunity to succeed.  Lucas' resume includes;
Coaching Staff at South East Melbourne Phoenix
Champ Men's Head Coach at Wyndham Basketball
Coaching Lead at Wyndham Basketball
4 x Australian Junior Championships – Head Coach
4 x Australian Junior Championships – Assistant Coach
11 x Australian Country Junior Basketball Cup – Head Coach/Mentor Coach
2 x Australian Country Junior Basketball Cup All Star Team – Head Coach
2 x Australian Development Camps
5 years Basketball Victoria NITP/SDP/NPP
3 Years Senior Men's Head Coach, Southern Peninsula Basketball – Championship Winner
3 years Senior Women's Head Coach/Assistant Coach, Southern Peninsula Basketball
1 year NBL1 Assistant Coach, Knox Basketball
3 years Haileybury College Senior Boys – Head Coach
Throughout my junior basketball career I'd worked continuously with Lucas Allen. When I first started to take basketball seriously, making the decision that I wanted to make a career out of the game, Lucas was a great resource I had access to in helping me improve all facets of my game. Specifically, I recall him always putting together fun, position specific, and challenging workouts that helped me take great strides in my skill development.

He is a person that I have maintained a great relationship with since we first met, catching up every time we cross paths, reflecting how much I respect and appreciate everything he has done for me in my basketball career. He's been such a positive influence on me, and I've always known that he's had my best interests at heart when constructing sessions that were both highly enjoyable and productive. Having the privilege to work with Lucas is something that I definitely don't take for granted, and his experience further from the time we've worked together closely would have only enhanced the already high expertise he possesses.

– Jack White (Melbourne United and former Duke University Men's Basketball Captain)
Personally for me, i wouldn't be here today if it wasn't for Lucas Allen. You know learning the game of basketball from him was an honour for me. He's a very knowledgeable and smart guy, and he knows the game of basketball very well.  I think the most important thing is he's a great guy.  He wants to coach you, he wants you to get better and that's what you want from a coach.

Personally for me, he's one that kick started my career.  It was a great opportunity to be able to train with Lucas.

– Dyson Daniels (G League Ignite & potential 2022 NBA lottery pick)
I've been working with Lucas for the past 2 seasons for the Phoenix. Lucas has an exceptional level of knowledge for the game and has had a lot of impact on the player I am today. I highly recommend Lucas to any basketball player trying to take their game to the next level.

– Reuben Te Rangi (South East Melbourne Phoenix and New Zealand Men's National Team).
A number of Wyndham Basketball's qualified and dedicated Big V, VJBL coaches and Big V US imports will assists coaching within the program where needed.
The Small Group Workouts run for 8 weeks and has a progressive curriculum, based on the Wyndham Way, challenging athletes to take the next step to grow their games.
If you have any questions feel free to call the WBA office on 9742 5440 or email lucas.allen@wyndhambasketball.com