Wyndham Basketball and Invicta Performance lead 'The Wyndham Way'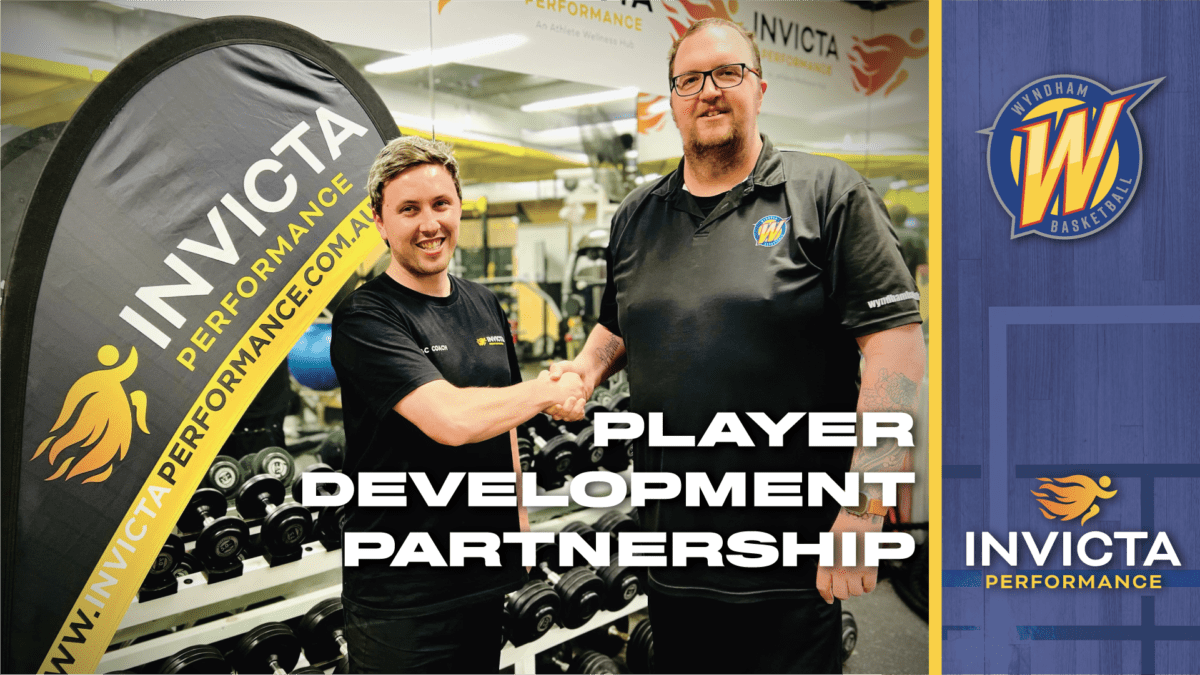 Wyndham Basketball Association (WBA) is proud to announce a landmark partnership with Invicta Performance, supporting Wyndham's VJBL junior, Youth League and Big V representative teams.
The partnership will deliver "The Wyndham Way" – a holistic athlete development program for Junior and Senior Athletes in the Wyndham community.  The Invicta Performance partnership is focused on providing athlete development in the following key areas, strength and conditioning, nutrition, sports psychology, physiotherapy and athlete prehab and rehab.
These key areas will be delivered via a series of workshops by Invicta Performance, both onsite at Eagle Stadium and also at Invicta Performance HQ which is based out of Avalon Airport Oval (Werribee FC). These sessions will be in place of the teams' regular weekly training sessions, and during development camps run over school holidays. These services will be provided at no extra cost to our Junior and Senior Representative athletes.
All athletes will have their strength and conditioning related progression charted, which will greatly assist in athlete development as we can combine our on-court data to our off-court data and plan detailed development plans for all athletes.
Big V athletes will have access to Invicta's recovery facilities after each Big V game, which will put Wyndham's Big V program on par with many professional Athletic programs.
Junior and Senior Athletes will also have access to discounted strength and conditioning services with Invicta Performance should they wish to take part in additional strength and conditioning sessions, along with discounted physiotherapy services.
"We are extremely excited to be entering this partnership with Invicta Performance, we have been thoroughly planning our Wyndham Way Vision – Holistic Athlete Development Program for some time now, and to have a service provider who can facilitate the bulk of our program at such a high standard and in a professional environment is a huge bonus for our representative program."  WBA Head Coach Gerard Hillier said of the partnership. 
"This partnership is proof of our commitment to the long term health, well-being and development of our athletes and is crucial to our representative program goal of becoming the leading player development program in the nation, via a progressive, holistic and long-term focused approach".
Invicta Performance Director, Scott Graham expressed  "We're excited to begin working with Wyndham Basketball and helping the players reach their full potential.  This is an amazing step forward for Junior and grassroots basketball and its fantastic to see Wyndham leading the way to improve the health and well being of its community."
Invicta performance has been delivering elite Allied health services to Athletes in and around Wyndham over the past year.  Based at Avalon Airport Oval, the team help athletes of all levels, from ages 13+ to bulletproof their weaknesses, decrease injury risk, and build strength, power and speed that is appropriate to their particular sport.  Invicta have a holistic approach and aim to build the total athlete through a combination of strength and conditioning, nutrition, sports psychology, physiotherapy and athlete prehab and rehab.