WBA Domestic Competition update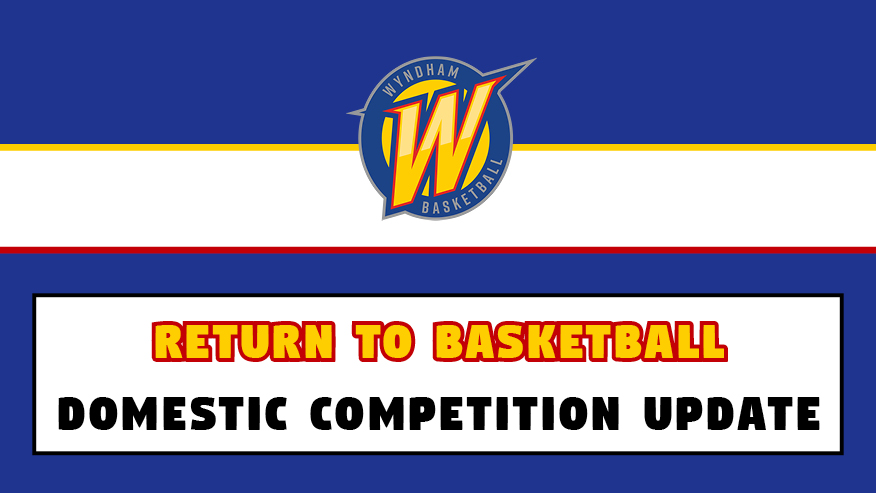 Domestic competition update:
As you may have seen, Basketball Victoriahas received offical government approval to return to sport at its Orange 50 level for people 18 and under, and Orange 20 for people 19 and over. This is really good news and helps us in relaunching our competitions in line with the dates we outlined last week.
The Orange 50 limit will be made up by a maximum of 10 players per team, 1 spectator per player under the age of 18, 3 team officials, 2 referees and 2 scorebench officials. The Orange 20 limit will be made up by a maximum of 7 players per team, 1 team official, 2 referees and 2 scorebench officials.
Key Dates
As previously outlined our Under 18 competitions will commence from Tuesday July 14th, Friday July 17th and Saturday July 18th. Over 18 competitions will commence from Monday July 20th.
Season length
All competitions will comprise of an 8 week regular season, followed by two weeks of finals.
Fees
Junior team player fees are organised through your domestic club. Clubs have been provided with the team fee information and will be in touch with their own members about their fees for the Winter season. Senior teams will have the early bird price of $60 extended until July 3rd, before reverting to the full registration price of $75. Game fees are $63 for Seniors and $68 for the Premier Competitions. Senior teams can register here –
https://www.playhq.com/register/f189ca
Hygiene processes
In addition to the Covid-19 safe measure in place by stadium management, all scoring equipment and team benches will be sanitized after each game. Basketballs will also be sanitized in between games. All referees, coaches, team managers and players must use the hand sanitizer provided on court at the beginning of each half and all time-outs. Uniforms will only be hired out in the event of a colour clash, players will be responsible for placing their own used uniform into a bag provided to avoid contact with staff members.
Venue information
Please be advised that public water fountains are not available at this time. Vending machines will be operational and the canteen will abide by Government regulations, however we advise that everyone bring their own drink bottle to games and trainings. Please ensure you have enough water for your activity as there will be no drink fountains to refill your bottle. Under current guidelines, referees will have access to the referee room during junior competition only, however they must abide by the 1 person per 4m2 ruling. No referee room access is allowed during the Senior competitions – more information will be provided by TOC closer to the commencement date.
Game information
Under 8 to Under 18 – There will be a maximum of 10 players allowed per team. The coach will be permitted to bring 2 basketballs into the stadium, no other basketballs will be permitted into the stadium. There will be a maximum of 3 team officials per team (Coach, Assistant Coach, Team Manager), and one Scoretable official per team.
Young Men/Women and Senior – Maximum of 7 players per team. Only two basketballs per team are allowed into the stadium. There will be a maximum of 1 team official and 1 scorebench official per team. There will be no spectators/parents/guardians allowed inside the venue for these competitions.
Spectator access
Only 1 spectator is allowed per player under the age of 18. There will be no spectators allowed for the Young Men/Women and Senior competitions until further notice.
Entry/exit procedure
Patrons are advised to arrive at the stadium no more than 20 minutes prior to their game commencing. Everyone entering the stadium will need to scan the QR code provided out the front of the stadium by WLS staff. Once you have entered your information and received a green tick, you may enter with your team where you will be directed to an internal holding area until stadium staff grant you permission to enter the court. Patrons must exit the stadium within 10 minutes of their game finishing. All team officials must be allocated to the team on the PlayHQ system so that we have all contact information on hand. Check out our explainer video here –
https://www.youtube.com/watch?v=1wYOJ7Gsjh0
PlayHQ information
Reminder that all players and team officials must be allocated to their appropriate team prior to the first game of the season. All teams must also be allocated to a specific grade otherwise they will not be entered into the fixture so please check to ensure all your teams have been entered into a grade.
If you have any questions regarding the information above, please contact our competition manager Chris via email Chris.clyne@werribeebasketball.com or 9742 5440.